Our Restaurant
Jambo / Hello
Kenya is world famous with adventure, wild animals, splendid white beaches and colourful cultures. In Kenya over 60 languages are spoken and there are about 40 ethnic tribes, each with its own unique, customs traditional dress and eating habits. With this diversity Kenya boasts numerous unique and delicious recipes full of surprising tastes and flavours. Owner Gigi invite you to take a culinary safari, a tour of this beautiful country through their Kenyan Restaurant 3Stones.
At the 3Stone Restaurant guests can enjoy delicious Kenyan food in a unique way and in a warm vibrant African atmosphere. With the restaurants concept of eating together, food is served on a large tray with various Kenyan foods for everyone to enjoy. With its subtle African décor and lively African music, 3Stones is the perfect backdrop for enjoying your Kenyan meal. Hand made decorations made from Maasai cloth, kanga and kitenge (traditional African materials) adds to the vibrancy of the space.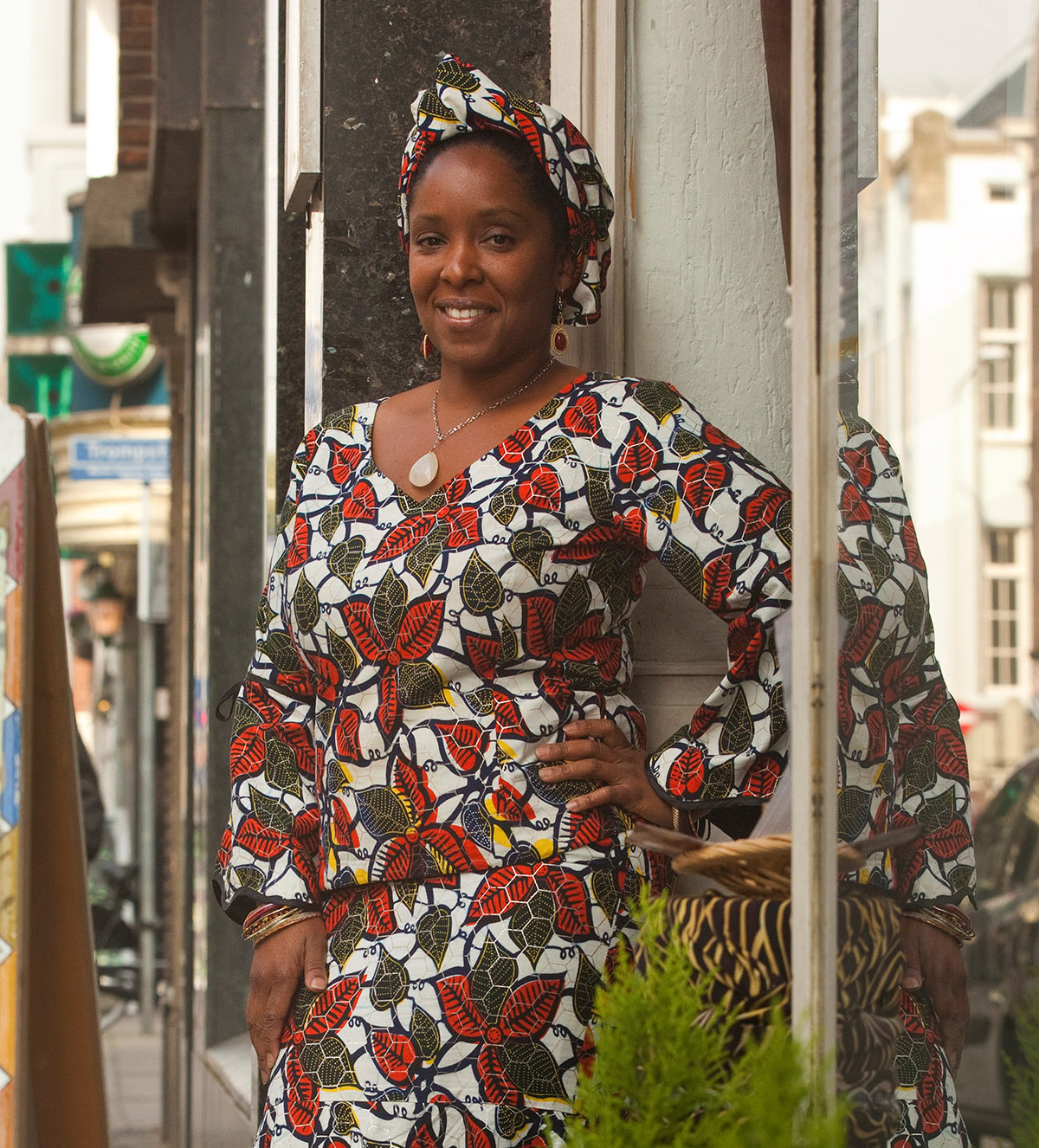 Proprietor
Gigi, proprietor and restaurant chef, graduated with diplomas in hotel management and has huge experience in the hospitality industry. She worked in 4 and 5 star establishments and various European and African restaurants.
Gigis unique style of cooking can be traced to her child hood experiences in her mothers and grandmothers kitchen in Kenya & Zanzibar. In her cooking she uses traditional Kenyan recipes but adds her own special twist to them, but the food still remains authentic and prepared with great care and passion.
3Stones family extend a warm and sincere Kenyan welcome saying "KARIBU 3Stones" meaning "Welcome to 3Stones".
Our Name -The 3Stones
A traditional Kenyan kitchen, is found in a separate building, detached from the main house. Here all the cooking is done on a hearth formed by 3Stones.
The women of the village spend hours searching for the perfect stones. They have to be strong enough to endure the harsh cooking fire and the weight of the heavy cooking pot.
When found these 3Stones are arranged in a triangle and become the center piece of the kitchen. An earthenware pot usually sits on the stones and the fire slowly consumes three pieces of wood that meet at a point under the pot.The large pot would then be filled with meat, vegetables and spices, placed on top of the stones and left to simmer slowly, while accompanying dishes were prepared.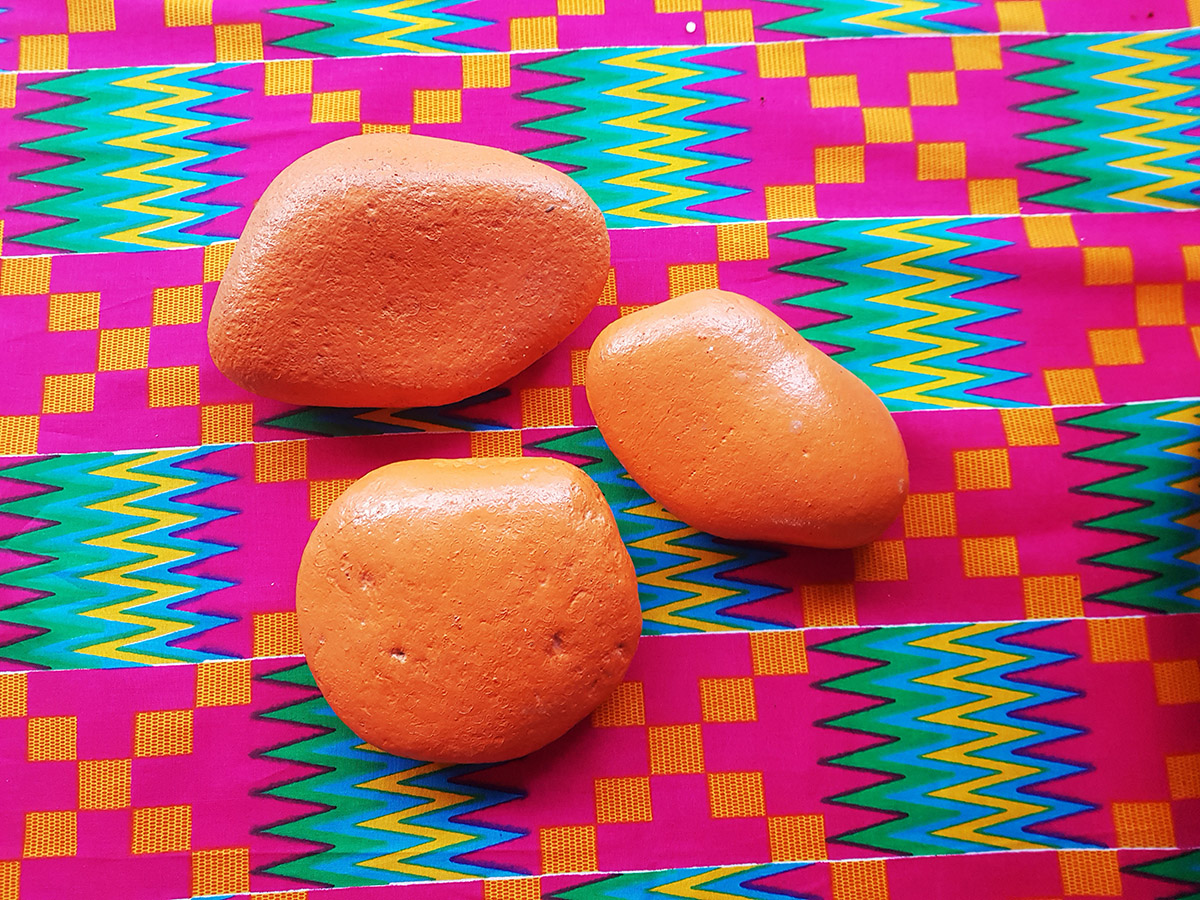 The Restaurant
Your Kenyan dining experience is further enhances by the 3Stones concept of eating together.
The meal is served on a sinia, a large round stainless steel tray covered with a traditional Kenyan cloth. On the tray several hand made bowls are filled with a variety of Kenyan foods and placed in the center of the table. Guests are encourage to taste each others dishes as eating together is the true Swahili way of dining. Should you wish you can be adventurous and eat the Kenyan way, using your right hand.
3Stones is a place where our guests are immersed in the ambiance of Kenya by the restaurant's decor and soft furnishing. The restaurant is decorated in a subtle African style. You are surrounded by various artifacts, hand carved wooden objects, artwork, musical instrument, wall hangings beaded gourds and Maasai hunting spear.
When it comes to music you will be entertainment by some of the leading performers from the continent. It is an opportunity to discover and sample the wonderfully exciting rhythmic musical world of Africa. So just sit back, relax, and let us entertain you with our lively selection of African contemporary music.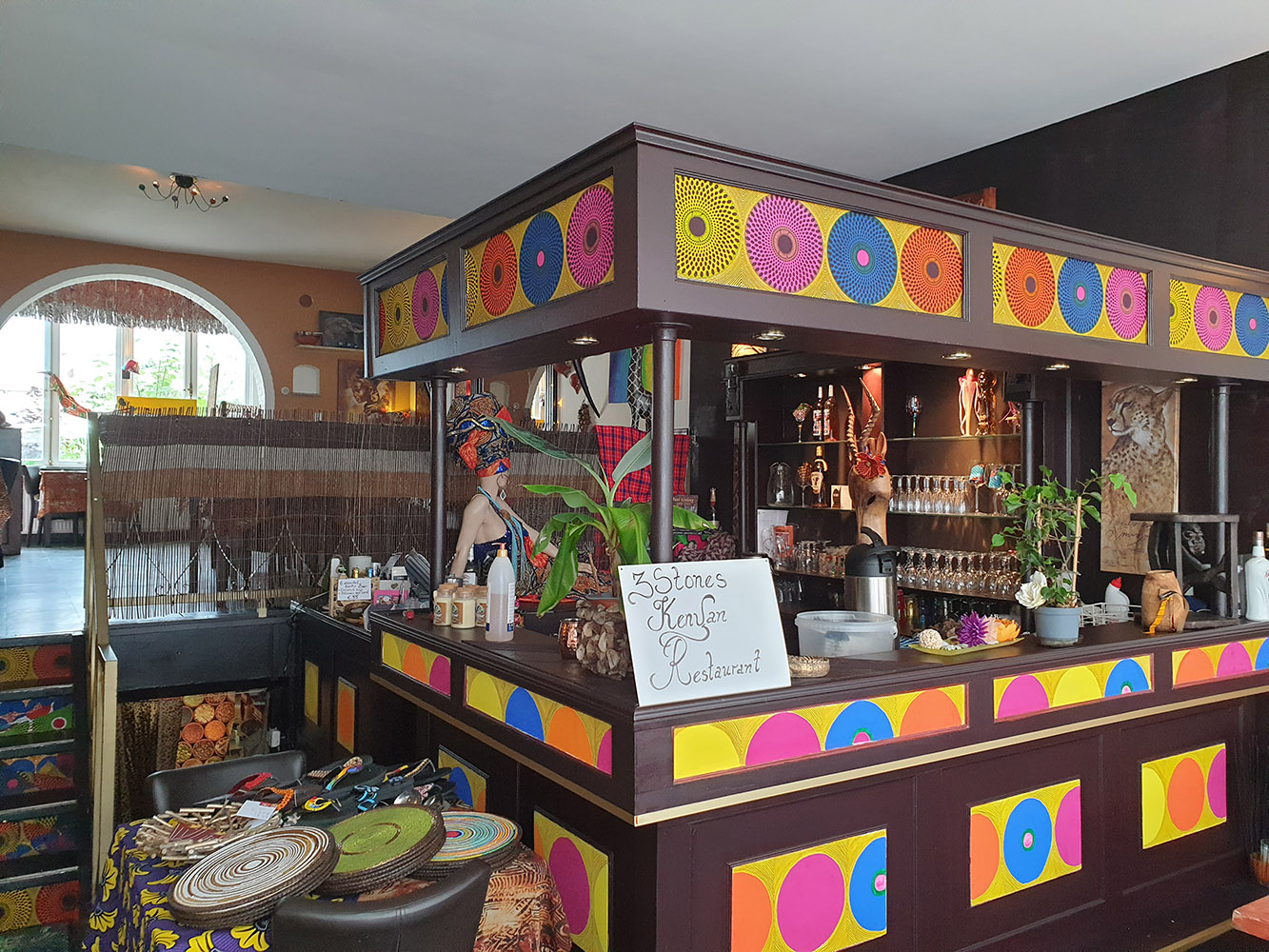 The Terrace
Our enclosed terrace and safari tent is available for private hire, for afternoon events.
Contact us for more details or see groups & catering.
Swahili Cuisine
To taste Swahili food is to bite into the history of the east coast of Africa. Today's Kenyan kitchen is strongly influenced by the arrival of foreign settlers and traders from the far reaches of the globe. They came from Portugal, India, China, Persia and Arabia. They made fortunes in ivory, spices and frankincense and introduced new ingredients such as cassava, maize, cashew and avocados. They also brought with them new ideas from their own cultures and countries. As a result of the trade ships cultures intermingled and coastal towns grew and prospered. Centuries of foreign influence created a vibrant and exotic society. Gradually a new culture emerged: Swahili. Taken from the Arabic word for coast people, Swahili became the name of this shore line, its people, language, culture and cuisine.
Swahili food can be considered one of the world's first 'fusion' foods. With its fragrant aromas and exotic flavors Swahili cuisine has emerged as a colorful mix of the best of African, Arabian and Asian flavors.
3Stones brings you a unique kitchen inspired by the Swahili people who live on the Kenyan coast. An opportunity to taste dishes from Lamu, Malindi, Mombasa and we even give you flavours from the Zanzibar islands where a lot of spices are grown.
Our kitchen uses an abundance of aromatic African spices like cloves, ginger, cumin, cardamom, cinnamon, nutmeg, vanilla etc. These spices are used in combination with exotic ingredients and ingredients you maybe already familiar with, but prepared in a different way. Coconut milk appears in a wide range of our menu items and it is one of the distinctive flavours of Swahili cuisine. To ensure that the quality of our food is on a high level our chef and dedicated kitchen staff use the best ingredients that the restaurant can source.